Teresa Simmons-Drews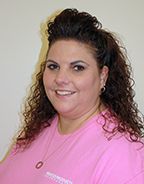 Customer Service / Pre-Press Dept
Teresa has been employed by Printed Products since April 1999. She is a 1998 graduate of Missouri Southern State University with a Bachelors Degree in Mass Communcation with an emphaysis in Journalisim and has an Associate Degree in Business Adminstration from Northeastern A&M College.
While in college she worked on the campus newspaper doing ad design and was also employed by the hometown newspaper doing the same thing.
Teresa is now a resident of Broken Arrow.
Teresa works in the pre-press department and is also our customer service representative and is here to assist you with all of your printing needs. Just give her a call and she can help you with any question you may have when it comes to layout, design, typesetting, preflighting, or packing your job to bring to us.